Our Founder — Dr. Joseph Gelberman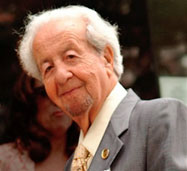 Dr. Joseph H. Gelberman, a Hassidic Rabbi in "the Way of Martin Buber", was born in Hungary where he received his Rabbinical ordination, as well as part of his secular education. He was also a psychotherapist with a successful practice in New York City.
Rabbi Gelberman was a graduate of City College of New York and Yeshiva University. For his preparation as a therapist, he interned at The Mental Hygiene Clinic of Cumberland Medical Center, Brooklyn, New York, where he remained on staff for two years.
Rabbi Gelberman was the founder and Senior Rabbi of The New Synagogue, both in Princeton, NJ and in Manhattan, the President of the Rabbinical Seminary International, as well as a founding member of the Metaphysical Circle; and the Wisdom Academy. He was known as "The Listening Rabbi", and was a serious life-long student of Yoga.
Rabbi Gelberman was widely recognized as a modern master of the teachings of the Kabbalah. He is the author of seven books, including "The Kabbalah As I See It" and "Spiritual Truths." Recognizing the need for Modern Rabbis in today's world, Rabbi Gelberman founded the Rabbinical Seminary International (RSI) in 1993.